Truly Madly Guilty (Hardcover)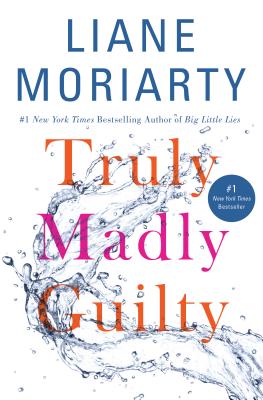 Description
---
Nine Perfect Strangers on sale now

THE #1 NEW YORK TIMES BESTSELLER, FROM THE AUTHOR OF BIG LITTLE LIES, now an HBO series.

Winner of Goodreads Choice Award for Best Fiction
Entertainment Weekly's "Best Beach Bet"
A USA Today Hot Books for Summer Selection
A Miami Herald Summer Reads Pick

"Here's the best news you've heard all year: Not a single page disappoints....The only difficulty with Truly Madly Guilty? Putting it down." —Miami Herald

"Captivating, suspenseful…tantalizing." —People Magazine
Six responsible adults. Three cute kids. One small dog. It's just a normal weekend. What could possibly go wrong?
In Truly Madly Guilty, Liane Moriarty turns her unique, razor-sharp eye towards three seemingly happy families.
Sam and Clementine have a wonderful, albeit busy, life: they have two little girls, Sam has just started a new dream job, and Clementine, a cellist, is busy preparing for the audition of a lifetime. If there's anything they can count on, it's each other.
Clementine and Erika are each other's oldest friends. A single look between them can convey an entire conversation. But theirs is a complicated relationship, so when Erika mentions a last-minute invitation to a barbecue with her neighbors, Tiffany and Vid, Clementine and Sam don't hesitate. Having Tiffany and Vid's larger-than-life personalities there will be a welcome respite.
Two months later, it won't stop raining, and Clementine and Sam can't stop asking themselves the question: What if we hadn't gone?
In Truly Madly Guilty, Liane Moriarty takes on the foundations of our lives: marriage, sex, parenthood, and friendship. She shows how guilt can expose the fault lines in the most seemingly strong relationships, how what we don't say can be more powerful than what we do, and how sometimes it is the most innocent of moments that can do the greatest harm.
About the Author
---
LIANE MORIARTY is the author of the #1 New York Times bestsellers Truly Madly Guilty, Big Little Lies, and The Husband's Secret, the New York Times bestsellers What Alice Forgot and The Last Anniversary, and The Hypnotist's Love Story. She lives in Sydney, Australia, with her husband and two children.
Praise For…
---
"Here's the best news you've heard all year: Not a single page disappoints…The only difficulty with Truly Madly Guilty? Putting it down." —Miami Herald
"Perfect for those long summer days, but readers will have to pace themselves to not devour it in one sitting." —Library Journal (starred review)
Entertainment Weekly's "Best Beach Bet," Summer '16
A USA Today Hot Books for Summer Selection
A Miami Herald Summer Reads Pick
"Liane Moriarty is one of the few writers I'll drop anything for. Her books are wise, honest, beautifully observed, and—unusually—I can never tell where they're going to go." —Jojo Moyes
"The author of Big Little Lies—which is being made into an HBO series starring Nicole Kidman and Reese Witherspoon—brings it again. This time, the lives of a few happy families are changed forever after a barbecue. Well done, in more ways than one." —Skimm Reads
"Emotionally riveting…Moriarty is a deft storyteller who creates believable, relatable characters. The well-drawn cast here will engage readers and remind them that life halfway around the world isn't much different from life here—families argue, neighbors meddle and children push boundaries." —Washington Post
"[A] masterpiece…Extremely relatable and thought-provoking…Ms. Moriarty's shining talent in Truly Madly Guilty is her uncanny ability to get into the mind of her well-developed characters, turn the mirror on the reader and make you think about your own relationships, both past and present." —Pittsburgh Post-Gazette
"Moriarty is a talented tale-spinner and a sharp, witty social observer…Moriarty fans, pack Truly Madly in your beach bag." —USA Today
"Truly Madly Guilty will be widely read…It has all the requisite trademarks of one of her hits…It probes some of the things she writes about best: fraught friendships, covert backbiting, stale marriages." —New York Times
"Stacked with her signature themes: female friendship, duplicity, the darkness lurking beneath lucky, ordinary suburban lives…The last twist, though, is nearly worth the wait, and what sets Moriarty's writing apart…has as much to do with her canny insights into human nature as her clever plotting…Compelling." —Entertainment Weekly
"Moriarty's fans will rejoice at her latest title as she tackles marriage, parenthood, friendship, and sex, in this provocative and gripping read...This novel sheds light on the truths that we all fear as parents, spouses, and friends. It's perfect for those long summer days, but readers will have to pace themselves to not devour it in one sitting." —Library Journal (starred review)
"Perhaps the most anticipated release this summer, Moriarty is at her finest in this keep you guessing multi-family drama surrounding a tragic event at a casual neighborhood barbecue. You will not soon forget this cast of troubled yet very likable characters, and the relationships that both bind and nearly destroy them." —Huffington Post
"The author of Big Little Lies doing what she does best: unraveling people's public selves with an urgency that keeps you reading." —Glamour Magazine
"[A] brilliant story of love, marriage, parenthood and, of course, guilt…It's wonderfully suspenseful, slyly sentimental, sometimes outright sad—and also truly, madly, amazingly funny." —Forth Worth Star-Telegram
"Liane Moriarty has done it again. Truly Madly Guilty has it all—suspense, drama, humor, and a cracking story cleverly told." —Fabulous Magazine (UK)
Become An Affiliate!