Change the Story, Change the Future: A Living Economy for a Living Earth (Paperback)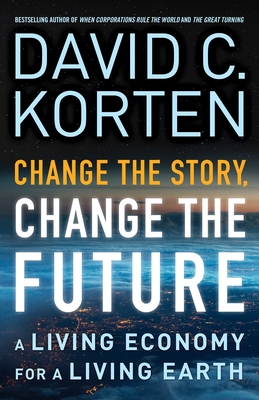 $19.95
Usually Ships in 1-5 Days
Description
---
We humans live by stories, says David Korten, and the stories that now govern our society set us on a path to certain self-destruction. In this profound new book, Korten shares the results of his search for a story that reflects the fullness of human knowledge and understanding and provides a guide to action adequate to the needs of our time.

Korten calls our current story Sacred Money and Markets. Money, it tells us, is the measure of all worth and the source of all happiness. Earth is simply a source of raw materials. Inequality and environmental destruction are unfortunate but unavoidable. Although many recognize that this story promotes bad ethics, bad science, and bad economics, it will remain our guiding story until replaced by one that aligns with our deepest understanding of the universe and our relationship to it.

To guide our path to a viable human future, Korten offers a Sacred Life and Living Earth story grounded in a cosmology that affirms we are living beings born of a living Earth itself born of a living universe. Our health and well-being depend on an economy that works in partnership with the processes by which Earth's community of life maintains the conditions of its own existence—and ours. Offering a hopeful vision, Korten lays out the transformative impact adopting this story will have on every aspect of human life and society.
About the Author
---
David C. Korten is cofounder and board chair of YES! Magazine, cochair of the New Economy Working Group, president of the Living Economies Forum, a member of the Club of Rome, a former Harvard Business School professor, and author of the international bestsellers When Corporations Rule the World and The Great Turning.
Praise For…
---
"If ever there was a guide to a better future, this is it."
—Maude Barlow, National Chairperson, Council of Canadians, and 2005 Right Livelihood Award winner

"Among the most important books of our time, from one of the most brilliant thinkers of our era, Change the Story, Change the Future hands us the keys to a world in which all people live in creative, peaceful, and coproductive partnership with one another and with nature." 
—Thom Hartmann, bestselling author and internationally syndicated talk show host

"Joining the wisdom of the great spiritual teachers with findings from the leading edge of science, David Korten outlines a transformative new narrative that is both promising and powerful."
—Van Jones, founder and President, Rebuild the Dream, and author of Rebuild the Dream

"Once you read this book, you'll never be able to look at today's tired old stories the same."
—Annie Leonard, Executive Director, Greenpeace USA, and author of The Story of Stuff

"One of the most thought-provoking analyses of the shifts in Western ideals and modern society now available under one cover."
—Sister Joan Chittister, OSB, Executive Director, Benetvision, and author of A Passion for Life

Become An Affiliate!